De Watergroep, Korbeek-Dijle, Vlaams Brabant ("Het Broek")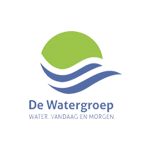 As of Autumn 2018, EUFOR INTER BVBA has completed work on the new drinking water pumping systems at Korbeek-Dijle (a municipality of Bertem close to Louvain) on behalf of the water production and distribution company DE WATERGROEP as a subcontractor for the DECKX Elektromechanica (STADSBADER group from Harelbeke).
The site, named "Het Broek" is located in an environmentally protected marshy area, which significantly complicates construction and access: a specially adapted operating procedure was required to transport the construction materials and surface water pumping and drawdown equipment to lay the foundations of the system.
EUFOR INTER had previously established 2 pumping stations on the "Het Broek" site in 2014. The objective of this new project was to establish another 2 wells to achieve a peak production of 500 m3/h and thus meet the demand from the Korbeek-Dijle production site.
The motor pump units (MPUs) were installed at a depth of approximately -50 m using stainless-steel EucoPro© discharge risers.
EUFOR INTER has been working together with the German company BRECHTEL since the early 1990s, when it was still run by Dr. Brechtel himself.
Over the past twenty years (1999-2018), EUFOR INTER has built a hundred "Brechtel" pumping stations on behalf of DE WATERGROEP (formerly V.M.W – "Vlaamse Maatschappij voor Watervoorziening) for public contracts (restricted calls for tenders with negotiated procedures).
The following production centres ("Waterprodutiecentra" or WPC) are particularly noteworthy:
Eeklo, Tessenderlo, Heverlee-Cadol, Scherpenheuvel-Diest, Kumtich-Tienen, Venusberg-Overijse, Bovelingen-Heers, Overlaar-Tienen, Scherpenheuvel-Diest, Aarschot, Eisden-Maasmechelen, Bree, Pecq Saint-Léger, Voort-Borgloon, Neerpelt, Zichem-Diest, Overijse-Tombeek (Sanatorium), Diest and Korbeek-Dijle (Bertem)…
EUFOR INTER provides delivery and on-site installation for prefabricated BRECHTEL DBP frames, as an alternative to conventional brick-and-mortar buildings and buried or above-ground structures made from prefabricated concrete.
Brechtel® frames are pre-fitted in the workshop with a fixed (electric) component and a mobile (hydraulic) component. Opening mechanism on galvanised rails/slides and lockable closing mechanism (patented by Brechtel® to allow operation by a single person!).
The structure is made from a green-coloured RAL6011 glass-fibre reinforced polyester (colour stability guaranteed min. 10 years).
Dimensions and technical details can be found in the data sheets.
Brechtel well heads are designed to satisfy every operational and ergonomic requirement: high accessibility, hygienically impeccable and reduced maintenance.
This solution by Brechtel© also integrates seamlessly into the environment, thereby meeting the stringent requirements of planning departments and facilitating distribution.
Our installations are certified for any water protection zones and additional measures are possible for zones at risk of flooding (as was the case at Korbeek-Dijle).
The stainless-steel pressure piping, including the well cover, its accessories, and the shell (large diameter tubing) that provides an interface between the wells (production wells) and the subterranean distribution network, is drawn up by our design and engineering office, approved by the customer, then manufactured in our industrial boilermaking workshop in Belgium.
Workshop certified according to ISO 9001 and PED 2014/68 on pressurised equipment.
Calculations performed in compliance with the EN 13445 standard and the CODAP and ASME VIII building codes.
The equipment is delivered on-site, installed and commissioned by our team of specialist assemblers.
Our assemblers are versatile – they can perform levelling, foundations, pipe-laying and welding, as well as electrical hook-ups and commissioning for submersible motor pump units (MPUs), valving and instrumentation.