25,000 m3 of liquid fertiliser in flexible storage tanks for large-scale farming in Eastern Germany and Poland…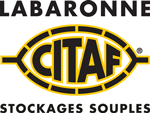 For more than twenty years, EUFOR INTER has been advising, distributing (sales & aftersales) and installing storage tanks made by LABARONNE-CITAF – the inventors of flexible storage – from Belgium throughout the BeNeLux, Germany and for exports.
Since 1959, LABARONNE-CITAF has been designing and industrialising flexible solutions made from highly resistant coated polyester textiles for the storage, treatment and transport of various liquids.
Today, tanks are available in capacities ranging up to 2,000 m3 each.
More than 3,000 flexible tanks are manufactured each year and installed worldwide on behalf of civil protection services, the military, firefighting services, humanitarian organisations, municipalities, farmers, industry, construction and environmental actors.
Each range of tanks is specially adapted to the liquids that they store:
Industrial textiles and specialised equipment for specific applications and user requirements.
The success and longevity of the Labaronne-Citaf brand are a testament to its manufacturing quality, expertise, and distribution network.
EUFOR INTER has been partners with LABARONNE-CITAF since 1996.
Certified and exclusive distributor for the BeNeLux region and German agriculture market for the storage of liquid fertiliser solutions.
FARMING - LIQUID FERTILISER
Historically, Labaronne-Citaf® flexible tanks were designed in France for the long-term storage of solutions containing nitrogen and sulphur. With support from professionals in the sector, we have since developed a comprehensive range of custom products specifically for liquid fertilisers.
All of our storage products for liquid fertilisers – and especially the closed self-supporting flexible tank – fully satisfy the quality criteria established by European regulations, as well as the recommendations issued by the French Ministry of Ecology on December 14, 2010 for liquid fertiliser storage in flexible tanks over retention basins.
Our flexible solutions can be used to store liquid fertiliser both indoors and outdoors. With low upfront costs, straightforward installation and long service life, Labaronne-Citaf® closed flexible tanks are the very best solution for this type of application.
We also offer retention solutions, often imposed by national regulations, in the form of retention berms or walls.
Max. capacity 1,000 m3 (per tank). Larger capacities possible on request.
EUFOR INTER has a number of "liquid fertiliser" references in the BeNeLux region (primarily in Belgium/Wallonia), Germany (primarily Eastern Germany) and Poland in major crop growing areas.
EUFOR INTER GmbH has developed partnerships with key operators in the fertiliser sector in Eastern Germany and Poland.
Most storage tanks delivered and installed in the large-scale farming plains of Central Europe (which can range up to 10,000 hectares per farm) have capacities between 100,000 and 500,000 L per tank.
Each storage depot typically has multiple tanks installed over a lagoon or retention basin. The overall volume usually ranges from 1,000 to 2,000 m3 per depot.
The aerial-view photo below shows a relatively large depot in Saxony close to Dresden. The installations of the storage centre, including self-erecting storage tanks, retention basins and pumping and filling/draining equipment were approved by TÜV (TÜV SÜD Industrie Service GmbH) for compliance with safety standards.
Other farms typically require lower storage volumes varying from 50,000 to 200,000 L.
The most suitable equipment is chosen for each application.
In storage depots, the equipment is generally sized with 4" fittings to facilitate repeated filling/draining. In farms, the equipment is chosen to be compatible with the most common delivery lorries and sprayers (usually 3").
All tanks are equipped with safety features, i.e. overflows, vents, reinforcements and level indicators. Flushing nozzles can be added to facilitate complete draining in case the tank needs to be moved.